Ten little cities near DC with awesome urbanism
Central cities are booming all over the US, as Americans rediscover the benefits of walkable urbanism. But the boom isn't confined to only big cities. Smaller cities are also enjoying a renaissance of their own.
Here are ten little cities near DC with genuinely great urbanism.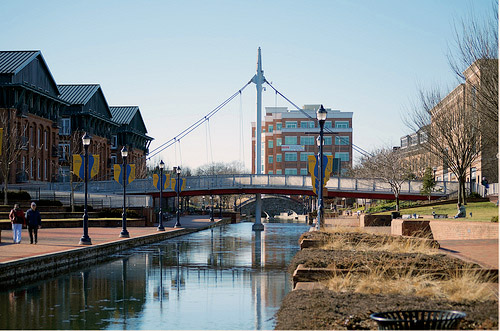 Frederick, MD: With stately historic buildings, fancy restaurants, rowhouse neighborhoods, and the best riverwalk in the region, Frederick is a bona fide quality city. Photo by Gray Lensman QX! on Flickr.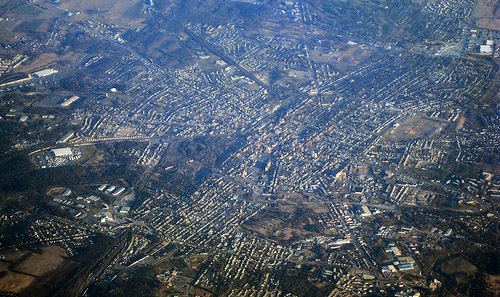 Hagerstown, MD: Less fancy and more blue-collar compared to Frederick, Hagerstown's solid core of 19th Century streets is more like Baltimore than DC. Photo by J Brew on Flickr.
Cumberland, MD: If Frederick is a mini DC and Hagerstown a mini Baltimore, Cumberland with its sharply rising hills and narrow valleys is a mini Pittsburgh. Photo by Dave Olsen on Flickr.
Annapolis, MD: With its baroque street grid, 18th Century state house, and as the home of the Naval Academy, Annapolis was an impressive town years before DC existed.
Winchester, VA: Winchester has a successful pedestrian mall, and the most gorgeous library in Virginia. Handley Library photo by m01229 on Flickr.
Charlottesville, VA: Charlottesville's pedestrian mall is even more successful than Winchester's, while the University of Virginia contributes The Corner, an interesting student ghetto neighborhood, and Thomas Jefferson's famous Lawn. Photo by Ben G on Flickr.
Staunton, VA: 19th Century warehouse town sister to nearby Charlottesville's academic village. Photo by BeyondDC on Flickr.
Fredericksburg, VA: Similar in size and scale to Old Town Alexandria, if it were 50 miles from DC instead of right across the river. Photo by BeyondDC on Flickr.
York, PA: Probably the most substantial city on this list, York is a veritable museum of 18th, 19th, and early 20th Century buildings. And its surrounding Amish countryside offers an object lesson in sharing the road. Photo by Joseph on Flickr.
Gettysburg, PA: The battlefield is justifiably more famous, but downtown Gettysburg is a charming little place, often overlooked. Photo by Tom Hart on Flickr.

Not enough? Don't miss Ellicott City, Manassas, Leesburg, Martinsburg, Warrenton, Front Royal, Culpeper, Harrisonburg, Brunswick, Harper's Ferry, and many more.

To qualify for this list, I excluded cities large enough to have tall buildings downtown (sorry Baltimore, Richmond, Harrisburg, and Wilmington), and any city close enough to DC be accessible via WMATA (Alexandria, Silver Spring, Kensington, etc). Otherwise the list is essentially subjective.

 Cross-posted at Greater Greater Washington.