Richmond will have BRT
Bus rapid transit will come to Richmond in 2018. The long-planned Broad Street BRT project won a federal TIGER grant this week to cover half its cost, allowing the project to move forward into final design and construction.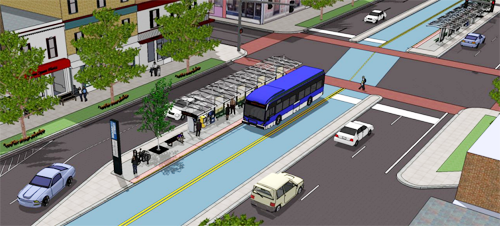 Broad Street is Richmond's most successful transit corridor, and main bus spine. It runs through or near most of Richmond's densest urban neighborhoods and most important central city hubs. It's the natural place for rapid transit.
The BRT project will run from the Willow Lawn shopping center in suburban Henrico County, through Virginia Commonwealth University and downtown Richmond, all the way to Rocketts Landing on the city's east side.
It will use a mix of dedicated curbside bus lanes and a median busway through the busiest sections of the central city, with mixed-traffic operation on either end.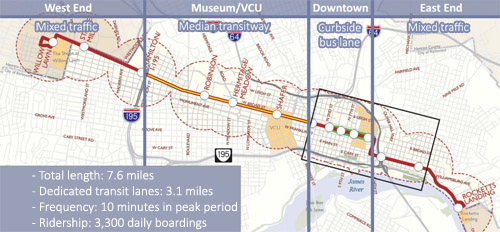 Projections say the BRT line will carry about 3,300 riders per day. That's low compared to the standards of a transit rich metropolis like DC, but it's huge for a place like Richmond, where there are only about 35,000 total daily bus riders in the entire region.

 Cross-posted at Greater Greater Washington.
 
 
 
September 11th, 2014 | Permalink | {num}Comments
Tags: BRT, bus, transportation