Is protecting this view the most important thing for DC?
The Washington Post yesterday featured an article discussing streetcar wires, and specifically the opposition to them from the (official) National Capital Planning Commission and (unofficial) Committee of 100.
Here is one of the views that the aforementioned groups want to protect so much that they rank it as a higher priority than improved urbanism, reduced congestion and pollution, economic development, access to jobs, and overall mobility: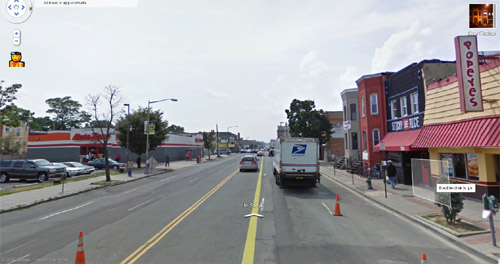 Google Street View image of H Street, NE.
NCPC and the Cmt. of 100 think streetcars here will wreck the "beautiful character of the monumental core".
The position of NCPC and the Committee of 100 really is mind-boggling. Yes, there are some places where wires might be inappropriate, but this clearly isn't one of them, so why oppose wires here? Do they think suburban-style auto repair and fast food shacks are beautiful? Is the strip-mall and asphalt character of suburban highways really their vision for what Washington's central neighborhoods should be? The only other explanation for such dogmatic opposition to a plan that would help H Street redevelop into an actually beautiful urban place is mere kneejerk reactionism. When even sensible compromise solutions are disregarded, it raises the question of just what opponents are actually thinking.

Update: Tracktwentynine and IMGoph remind me via twitter that Georgetown is included in the wire ban, in addition to the L'Enfant city. Considering that one of DDOT's proposed streetcar lines would run on K Street in Georgetown, this means NCPC and the Committee of 100 are opposed to streetcar wires underneath the elevated Whitehurst Freeway. They literally want to protect this view from streetcar wires: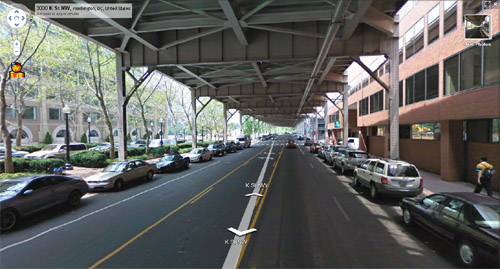 Another important view plane that must be protected at all costs, according to people who expect to be taken seriously.
Google Street View image of K Street, NW.
April 6th, 2010 | Permalink
Tags: preservation, streetcar, transportation, urbandesign