Increasing capacity at Rosslyn Metro
Metro Center has four main entrances. Gallery Place and L'Enfant Plaza each have three. Union Station, Silver Spring, Dupont Circle, and countless others have two. Rosslyn, the highest-ridership station in Virginia, has but one. One entrance with one set of long, slow escalators and one often-broken elevator, to serve all 36,000 daily passengers who enter and exit there (more than Baltimore's entire light rail line). It is serious capacity bottleneck and safety risk, and has to be fixed if Rosslyn is to accommodate its slew of planned new skyscrapers.
So Arlington is building a second entrance across North Moore Street from the existing entrance, in what will become a new plaza.
The entrance will include three new high-speed elevators (like those at Forest Glen), an expanded mezzanine area, a new station manager kiosk with additional fare gates and pay stations, and an emergency stairwell. It will also include additional parking for cars and bicycles as part of the private development above.
The rendering below illustrates how it will all work. The image shows the street at top and existing Metro tunnel at bottom. The existing escalator and mezzanine are shown in dark gray near the center. The new elevators, stairs and mezzanine are in lighter gray to the right.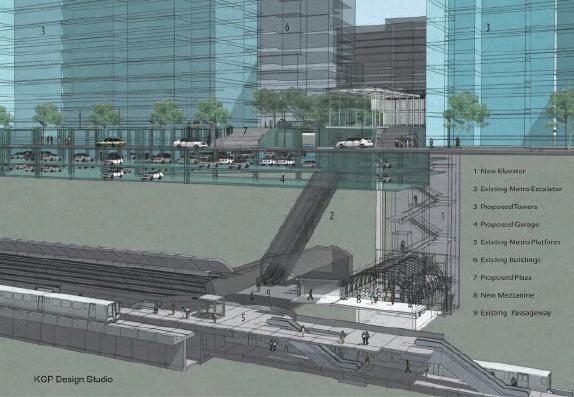 Rosslyn's new entrance. Image from Arlington County.
When complete, this new entrance – and the new development it is attached to – will make for a dramatically improved Rosslyn neighborhood and station. It's a good project, and it's been a long time coming.
For more renderings, check out Arlington's web page.
September 24th, 2010 | Permalink
Tags: development, metrorail, transportation