Little known infrastructure: Aqueduct Bridge
In the early part of the 19th Century Georgetown and Alexandria competed as industrial port cities. Georgetown got a leg up in 1831 when the Chesapeake and Ohio Canal opened, which in the days before railroads was anticipated to become a major highway west. Alexandria, not wanting to be left behind, arranged for a spur canal to connect Alexandria with the more important canal in Georgetown. Only problem: The mule-pulled shallow draft canal boats couldn't navigate the Potomac River. Thus it became necessary to build an aqueduct – a bridge over the river, filled with water to carry canal boats.
The Potomac Aqueduct Bridge opened in 1843 and connected Georgetown to the end of the Alexandria Canal, in present-day Rosslyn.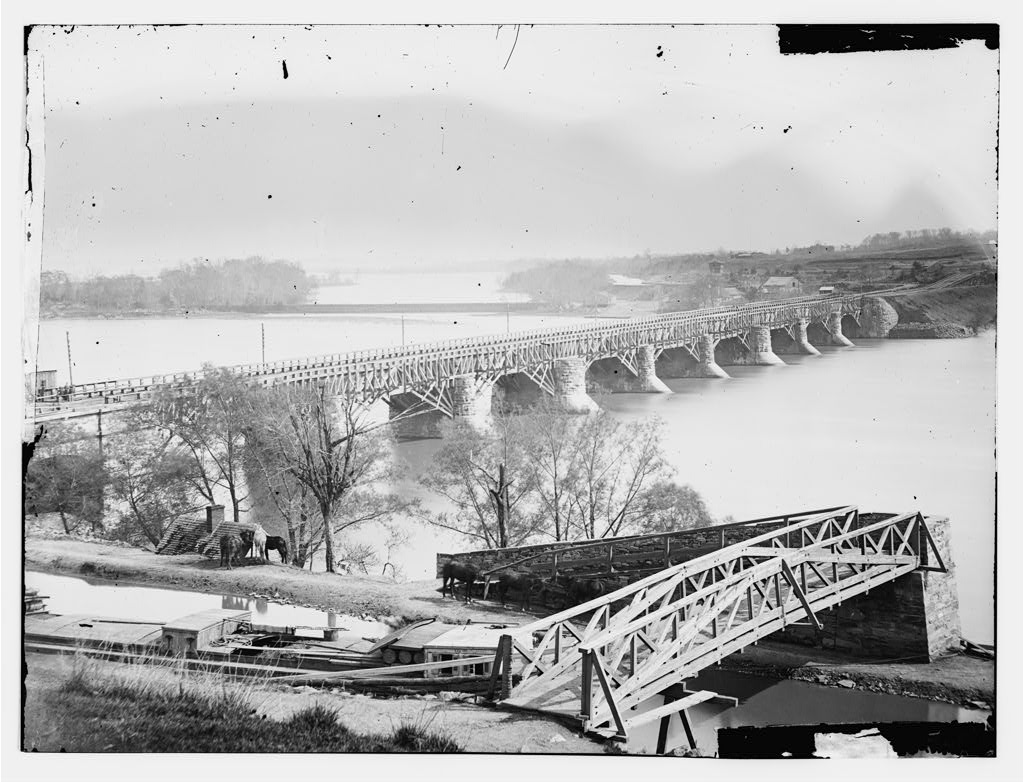 The first Aqueduct Bridge. Image from the Library of Congress, date uncertain.
Decades later portions of the Aqueduct Bridge were rebuilt to accommodate trains and trolley cars, but the bridge itself stood for nearly a century, until it was demolished in 1923 to make room for the Key Bridge, which currently sits in its place.
Mostly demolished, that is. Portions of the old Aqueduct Bridge remain. You can even stand on it, if you care to.
The old abutments where the bridge met the DC and Virginia shores are still standing, and still perfectly visible if you know where to look.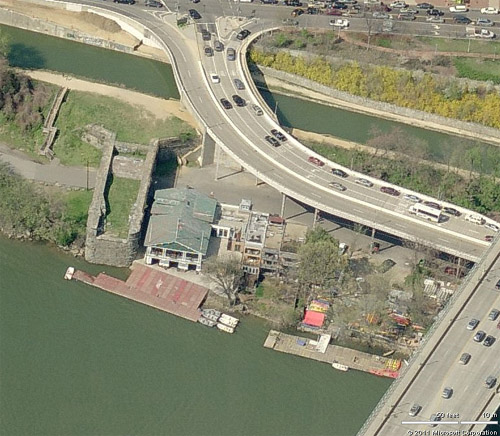 The DC abutment. Image from Bing Maps.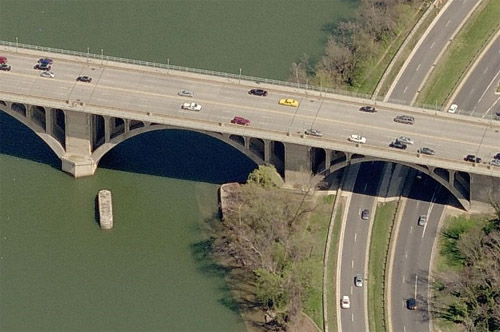 The VA abutment. Image from Bing Maps.
The Georgetown abutment in particular is easily accessible. It's adjacent to the C&O Canal footpath just west of the Key Bridge, right next to the Potomac Boat Club. You can walk right up onto it and see the old aerial canal first hand.
Those who do so are also awarded this splendid view of the river, Key Bridge, and Rosslyn skyline: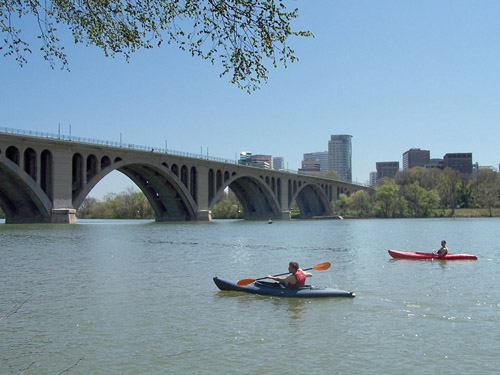 January 5th, 2011 | Permalink
Tags: galleries, transportation