Little known infrastructure: Trolley stations
Trolleys were once the bread and butter of urban transportation. As whole towns are now built around cars, whole towns were once built around streetcars. Although it's been 49 years since the last trolley rolled down a Washington street, there remains a plenitude of vintage trolley infrastructure.

Everybody knows about the Dupont Circle trolley subway and the tracks on P street in Georgetown, but not everybody knows that the city is sprinkled with old trolley station buildings. Most trolley stops were no more substantial than contemporary bus stops, but at a few key locations the flag stop gave way to a depot building.
I know of four good ones.

The first and most famous is actually outside the District of Columbia, at Glen Echo Park. There, day-trippers from the city rode out to an amusement park at the end of the line. It was Washington's version of Coney Island. Although the crowds are long gone, most of the buildings at Glen Echo remain, including its marvelous Art Deco trolley station.
Photo by flickr user Mr. T in DC
Less splendid but nonetheless interesting, there are at least three in the District. From left to right in the images below (from Google Maps and Bing Maps): On Connecticut Avenue at Chevy Chase Circle, On 14th Street at Colorado Avenue, and on Calvert Street next to the Duke Ellington Bridge.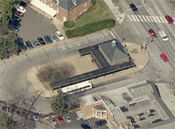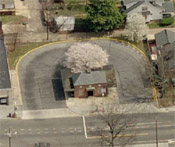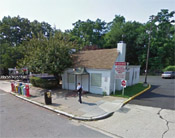 Actually there's some confusion over whether or not the Connecticut Avenue building was ever used for streetcars. Ironically, considering that it's the largest of these four, it may have only been used for buses. All three of them are still used as important bus depots to this day.
Beyond these stations, entire books could be written about vintage trolley remnants in the area. There is so much to cover that one blog post can't hope to capture anything but a tiny fraction.
Some remnants are well fairly well-known, like the light poles on the Klingle Valley Bridge, which are twice as tall as they need to be because they used to secure trolley wires.
Other remnants are all but forgotten. For example, one day a few years ago when I worked in the City of Fairfax, I found myself traipsing around a stream behind Route 50. I stumbled upon an old stone bridge deeply covered in brush. It turned out to be a bridge from the old trolley line that ended in Fairfax, but until I stumbled on it nobody – not even the city's official historian – knew it was there.
January 7th, 2011 | Permalink
Tags: galleries, preservation, streetcar, transportation