DC unveils 4 taxi livery options
DC has unveiled 4 options for a uniform citywide taxicab paint scheme. DCist's Martin Austermuhle is live-tweeting the presentation.
Here they are: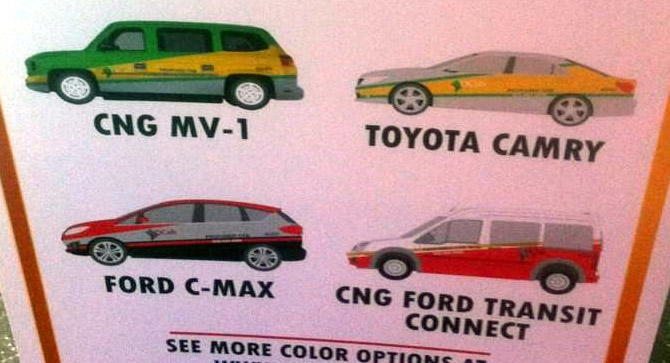 Photo by Martin Austermuhle.
Back in 2009 I said that by not having a uniform color scheme, DC is losing out on an important branding opportunity. New York's yellow taxis are one of the strongest images associated with that city. Since DC has as many cabs per capita as New York, the same could be true here.
Red is the natural choice. We want something distinctly different from New York, and clearly associated with DC. Since red is already the primary color of DC Circulator, Capital Bikeshare, and the future DC Streetcars, it makes sense to use the same colors on taxis. Doing so evokes a uniform brand for the city's entire transportation system, across multiple modes.

| | |
| --- | --- |
| | Photo by Martin Austermuhle. |
Two of the options released today use red. One of them, pictured here, uses the same shade as Circulator and Bikeshare, and includes a similar yellow stripe down the side. Of the 4 options, this is the best. But it would be better with red and white reversed, so that red is the dominant color.
Ideally I'd prefer a simple solid red, with maybe some yellow highlights. But since there are a lot of solid red private cars out there that aren't taxis (which isn't a problem for New York's yellow), I'm willing to concede that something a little more complex is necessary here. If we want red, it may need to be multi-colored.
Although it's not online yet, officials say there will be a survey on dctaxi.dc.gov asking for feedback. After that, the city will presumably pick a livery and set a timeline for adoption.

Note: This post was incorporated into a shared article on Greater Greater Washington, in which David Alpert responds with his opinion. David says all these options need work.
December 10th, 2012 | Permalink
Tags: roads/cars, transportation