The Washington region is the world's 77th largest urban area
Using a consistent apples-to-apples counting method, Demographia ranked the world's major urban areas by population. With nearly 38 million residents, Tokyo is by far the world's largest, and is nearly twice the size of New York's 21 million. DC clocks in with about 5 million, good for 77th in the world.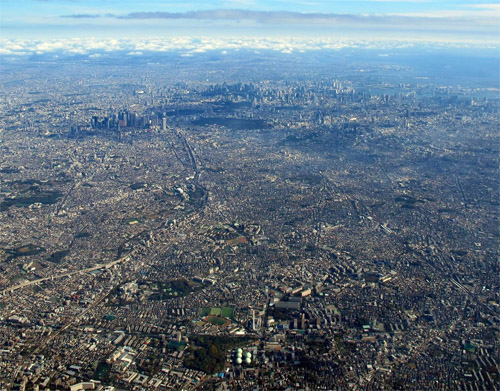 Cities are hard to measure
It's actually quite difficult to compare urban populations on any kind of consistent basis. City populations that follow municipal boundaries are arbitrary and inconsistent—some cities include their suburbs, while others do not.
Metropolitan areas are likewise difficult to nail down. In the US, the Census defines metro areas based on county boundaries, resulting in huge geographic disparities, especially in the west where some counties are the size of eastern states. Other countries use totally different methods.
Generally, the only way to build an apples-to-apples comparison is to map out the continuous built-up area of a region, and then measure the population within that area. With good enough data and consistent cut-off points, meaningful comparisons are possible. That's called an urban area, and enough countries publish data on them that it's possible to build a reasonably consistent world list.
Demographia did the leg work of stapling together government population data from countries around the world to build this list. Demographia is owned by famous sprawl proponent Wendell Cox, and pushes a generally pro-car/anti-transit ideology. But numbers are numbers, and these are interesting numbers.
The ranking
Demographia's complete list covers every urban area in the world with a population above 500,000. It's about 1,000 cities long.
Tokyo tops the list with almost 38 million people. Jakarta is second with about 30 million. Delhi, Manila, and Seoul round out the top five.
New York has 21 million and is the largest urban area outside of Asia, good for 9th worldwide. Los Angeles has 15 million and is 18th. Paris is 29th. London is 32nd.
In Maryland and Virginia, Baltimore is 206th with 2.3 million, Norfolk/Virginia Beach is 336th with 1.5 million, and Richmond is 485th with about 1 million.
What surprises you? What stands out? Click over to the GGW comments, and let us know.

 Cross-posted at Greater Greater Washington.
 
 
 
April 20th, 2015 | Permalink
Tags: demographics