DC can save the Olympics, if Boston, San Francisco, and Los Angeles all help
Boston has backed out of its bid to host the 2024 Olympics, and officials are begging DC and other cities to try and host the games. But fewer and fewer cities want to. What if, instead of picking one host city, the entire country pitched in, with venues spread out in several cities coast to coast.
The Olympics have a big problem. Virtually no democratic cities anywhere in the world want to host them anymore. The combination of sky-high costs for new facilities, and the inconveniences put upon the populace by way of construction and tourist traffic, have made the Olympics too much for one city to bear.
But why should one city have to?
To save the Olympics, the FIFA World Cup offers a compelling alternate in which countries host instead of cities.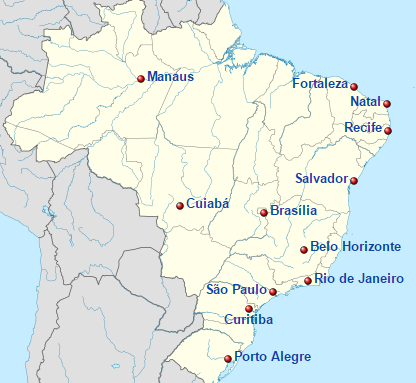 Different events would take place in different locations, hundreds or even thousands of miles apart. No single city would have to shoulder the burdens of more than one or two events.
With a whole country to choose from, organizers could find existing facilities for virtually every event. Much less new construction would be necessary. Many fewer one-time-use buildings would become abandoned after the games end.
And with fewer athletes and visitors in any one location, existing infrastructure and hotels could accommodate more of the influx of guests, with less disruption to residents. Hosting a single Olympic event would be more like hosting a college football bowl game, or the baseball All Star game.
In short, everything would become easier.
And although it's true that some World Cups suffer from overspending too, certainly the problem is less acute when it's spread over an entire nation.
The downside
This would admittedly be a drastic change to the culture of the games. It would be difficult for anyone to attend more than one event in person. Athletes would no longer live and socialize in a single Olympic Village. Something about the in-person experience of being in a city dedicated completely to the Olympics would be lost.
Without that complete dedication, it's unlikely urban politicians would find the will to use the Olympics to upgrade infrastructure.
But that overwhelming experience is part of why so many cities don't want to host the Olympics anymore. For residents whose lives are put on hold, it's a bug, not a feature.
Meanwhile, the opening and closing ceremonies would still provide glimpses of that invigorating everyone's-here feeling. It would be a trade-off, but perhaps a worthwhile one.
What role would DC play?
If Olympic officials spread the wealth/burden, what events might DC be fit to host?
A look at the possible venues for DC's 2014 bid shows what facilities already exist, and therefore might be a good fit.
We probably wouldn't get the opening ceremony. That needs an NFL-sized stadium, and our only options are either too old or too isolated. They'd work in a pinch, but some other US city can probably offer something more appealing.
Weightlifting could occur at Constitution Hall. The convention center could host table tennis, handball, or badminton.
The marathon could follow the path of the Marine Corps marathon. Rowers could set off from Georgetown.
And of course, the Verizon Center would be a killer spot for basketball. Or really any gym sport. How about gymnastics?
How would this change your opinion of the games? Would readers who oppose a DC Olympiad support a US games, with only one or two venues in DC?

 Comment on this at the version cross-posted to Greater Greater Washington.
 
 
 
August 10th, 2015 | Permalink
Tags: events, in general, proposal