Still waiting on Silver Line Phase II, Loudoun got a transit improvement of its own this summer
When Phase II of the Silver Line eventually opens, it will carry passengers to two stations in Loudoun County. But that's still a few years away. In the meantime, Loudoun is already sprucing up transit with more buses and improved park-and-rides.
On June 30, the Virginia Department of Transportation opened this snazzy new canopy at the Dulles North Transit Center, a bus depot near the future Route 606 Metro station.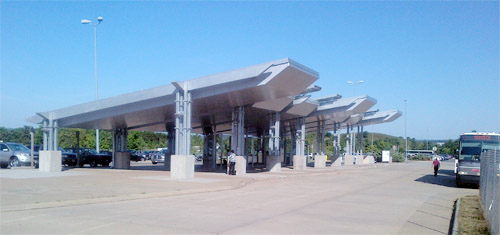 July 29th, 2014 | Permalink | {num}Comments
Tags: bus, transportation