Where people moved in 2008
The latest Cool Thing sweeping the net is this mapping website that shows domestic county-to-county migration patterns during 2008. That is, it shows you where people in the US moved to and from that year.
Click on any county in the United States and the map will display lines indicating where residents of that county moved to or from. Black lines indicate net inward movement (people moving into the county), red lines net outward movement (people moving out of it).
Some interesting results are below.
The District of Columbia: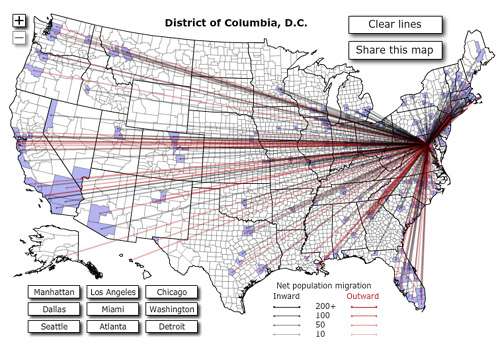 A lot more black than red is good news; it means more people are moving in than out. Geographically the ins and outs are fairly evenly distributed, although it's clear enough that more people are coming from the north and leaving for the south and west.
DC area suburbs:
From left to right, Montgomery County, Prince William County, Arlington County.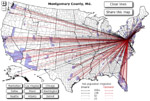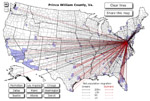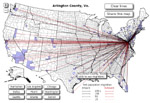 Interesting that from the perspective of black-to-red ratio, inner suburb Arlington is doing a whole lot better than outer suburb Prince William, with relatively comparable numbers of movements. Montgomery's map is denser with both red and black, it being such a larger jurisdiction, but it is clear that even wealthy MoCo isn't doing as well as the District.
Other cities:
From left to right, Los Angeles, Houston, and Cumberland, MD.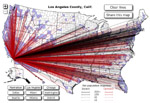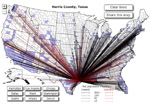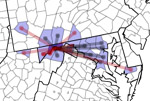 Except for a solid influx from the northeast, LA is bleeding just about everywhere; is it time to start calling what's going on the California diaspora? The map for Houston on the other hand is a mirror-image, covered in oily black. Smaller cities and rural areas obviously have less movement of both sorts, but isn't it interesting that long-suffering Cumberland has as much black as red, and that its population gains are coming from the very suburban areas that were responsible for draining it in past decades?
This is yet more proof that the 20th Century model of municipal winners and losers is becoming increasingly obsolete. The south still grows at the north's expense, but California isn't paradise any longer. Meanwhile, central cities and an increasing number of small towns are more than holding their own against sprawl.
There are no two ways about it: The 21st Century is going to be different than the 20th.

Cross-posted at Greater Greater Washington.






A modified version of this post appeared on the Washington Post Local Blogging Network.



June 16th, 2010 | Permalink
Tags: The New America