Little known infrastructure: Capitol Subway
Metro isn't the only subway system in Washington. In addition to the famous public system, there's a small network of underground trams linking the various Congressional office buildings to the US Capitol.

The Capitol Subway has three lines, six stations, and seven railcars. The line to the Russell Building was the first, opening in 1909 (!). Other lines and extensions were added in 1960, 1965, and 1982.

Historically the subway has been open to visitors in certain situations, but a phone call to the Capitol Visitor Center informs me the current practice is that the only way for the public to get into the system is to be accompanied by Congressional staff.

There are plenty of pictures of the subway online. I found these two particularly illustrative ones at New York Social Diary, in a post about Washington by Carol Joynt.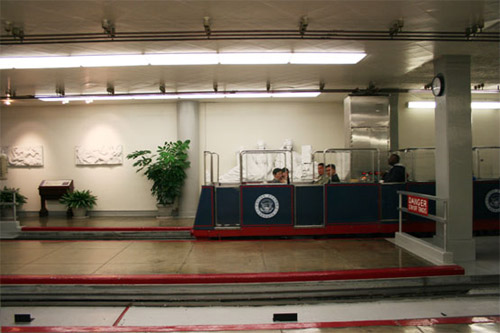 Capitol Subway railcar.
January 6th, 2011 | Permalink
Tags: galleries, transportation