Photo tour of Capital Bikeshare warehouse
CommuterPageBlog has a nice set of images from Capital Bikeshare's warehouse, which is busy with activity in preparation for the September launch. BeyondDC won't duplicate the entire photo set, but here is one showing frames for maps that will be part of each completed station.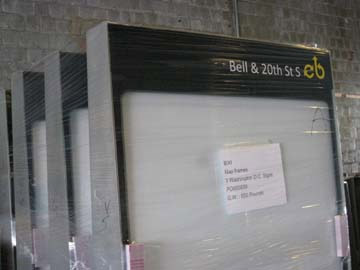 CommuterPageBlog also reports that installation of the station components is set to begin in Crystal City tomorrow, August 31.
August 30th, 2010 | Permalink
Tags: bike, galleries, transportation