New skyscraper will raise the roof on White Flint
For most of the last 30 years the tallest skyscraper in Montgomery County was Gaithersburg's 275 foot tall Washingtonian Tower. Earlier this year it was eclipsed by the 289 foot tall North Bethesda Market. And now the developers of White Flint are proposing another tower taller still.

Oh, and it's crazy-looking.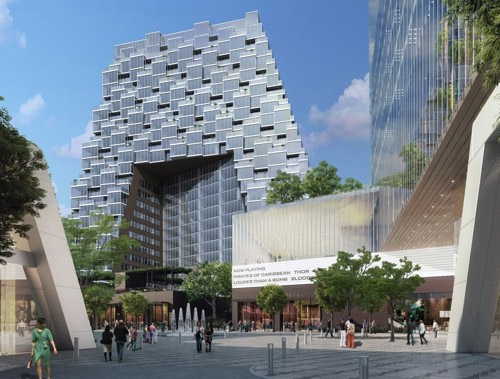 Proposed North Bethesda Market II. Image from JBG.
The proposed skyscraper is part of a massive mixed-use transit oriented development planned across the street from White Flint Metro. It will be called North Bethesda Market II, will have 345 residential units, and will be about 300 feet tall. It will anchor a development that also includes a 175,000 square foot office building and 115,000 square feet of retail space.

It makes sense to put skyscrapers in White Flint. The area is Montgomery County's version of Tysons Corner. It's a huge collection of dense but mostly suburban office buildings and residential high rises. With its Metro station it is as perfect a location for smart growth development as there could be in Montgomery County.

The project site plan shows that like the existing North Bethesda Market I, this new proposal is basically urban. The public spaces turn their back on Rockville Pike, which is unfortunate, but the urban design is still a big step up from existing conditions.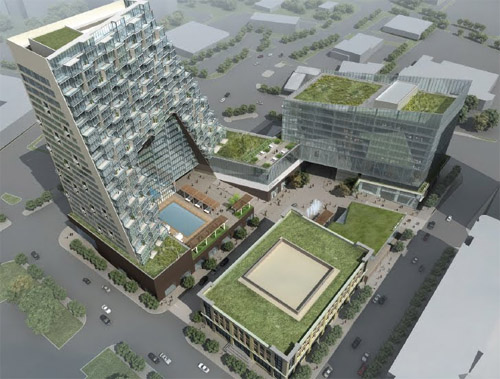 Proposed North Bethesda Market II. Image from JBG.
And then there's the architecture. The bold modernist ziggurat is absolutely unlike anything else in our region. It is a shocking sculptural statement that succeeds in all the ways it is meant to. It's not the kind of architecture that would make a good city if repeated over 10,000 background buildings, but it will be an undeniable landmark – an icon to the city White Flint aspires to be.

I wouldn't want to see more than one of these, but I like it for what it is.
December 6th, 2011 | Permalink
Tags: architecture, development, urbandesign