There's a "Washington" neighborhood in Milan, Italy
Milan, Italy's second largest city, has a neighborhood named "Washington." Its main street: Via Giorgio Washington.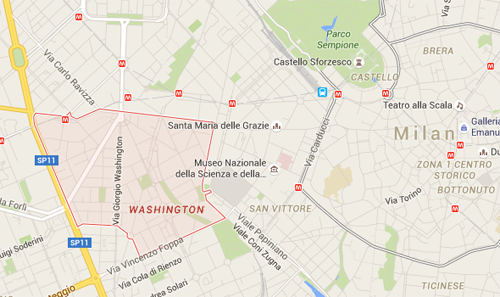 Washington Quartieri is about a mile from the center of Milan, outside its historic Renaissance core but very much in the midst of town. It looks like this:
Milan isn't the only European city to honor Washington. At least one other, Paris, has a short Washington street near Champs-Élysées.
Both Milan's Via Giorgio Washington and Paris' Rue Washington are more likely named for George Washington himself than for our fair District of Columbia. But still, it's interesting to look at a map of a European city and see "Washington" in bold letters.
What other foreign cities have streets or neighborhoods named Washington?

 Comment on this at the version cross-posted to Greater Greater Washington.