Keep it simple: Name Loudoun's Metro stations "Sterling" and "Ashburn"
Loudoun County is trying to come up with names for the two Metro stations west of Dulles that will open as part of the Silver Line Phase 2. Many of the options are terrible, but there's an easy solution, and it looks like this: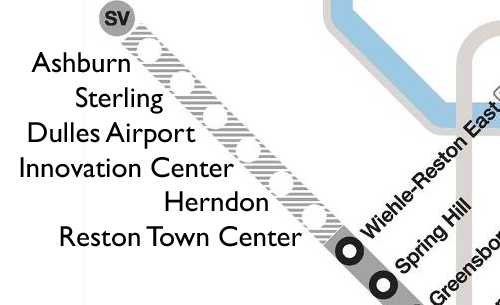 The "Route 606″ station is inside the Sterling zip code. The "Route 772″ station is inside the Ashburn zip code. Done. No more thought needed. Those names are perfect.
Names like "Loudoun Dulles North" and "Loudoun Gateway West" are not descriptive and they won't engender any sense of place. Metro station names need to be as short and obvious as possible. "Sterling" and "Ashburn" meet that test, while the other options don't. The KISS principle absolutely applies.
The only real criticism of Sterling or Ashburn seems to be that the center of Sterling is a little further north than this station. So what? Reston Town Center is a little further north of what will become Reston Town Center station. Vienna station isn't actually in the Town of Vienna. And Branch Avenue station is actually on Old Soper Road. It doesn't matter because these names are supposed to be general. They're supposed to roll off the tongue and be easy for riders to remember.
This doesn't need to be so hard.
October 23rd, 2014 | Permalink | {num}Comments
Tags: metrorail, transportation