If we build cities in space, this is what they'll look like
These stills from the four minute film Wanderers beautifully show what human civilization might look like with colonies on Mars, in the asteroid belt, and on the moons of Jupiter, Saturn, and Uranus.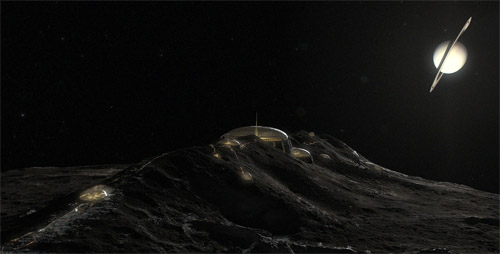 Though stunning, these images are not mere fantasies. They're based on real scientific ideas about what a spacegoing civilization would likely look like, given foreseeable future technology.
The film is by Swedish artist Erik Wernquist, who draws inspiration from hard sci-fi author Kim Stanley Robinson's Red Mars trilogy, as well as his novel 2312.
The first image, above, shows a series of domed settlements on Saturn's icy moon Iapetus. Iapetus has a giant equatorial ridge that runs around the entire moon like an actual physical equator. The views of ringed Saturn from atop Iapetus' ridge would be among the most dazzling in the solar system.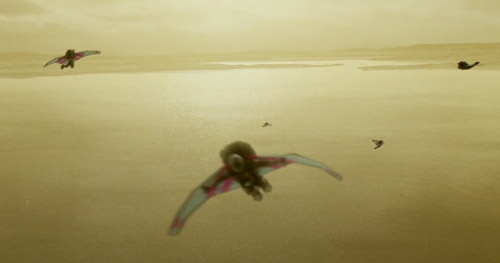 This second image shows another moon of Saturn, Titan, where the human-powered transportation equivalent to bicycling would be a bird suit.
Titan is larger than the planet Mercury, has rivers and oceans of liquid methane, and an atmosphere thicker than Earth's. Its combination of thick atmosphere and low gravity would make it possible for humans to fly using nothing but strapped-on wings.
This third image shows an O'Neill cylinder colony, or what Wernquist and Robinson call a "terrarium." It's a cylindrical hollowed out asteroid that astronauts have filled with an atmosphere and terraformed with a habitable landscape.
That may seem like a lot of effort, but for a spacegoing civilization asteroids offer many advantages, especially for transportation purposes. Their extremely low gravity makes launches and landings much easier than any planet or moon, while they still have enough raw materials to mine and export.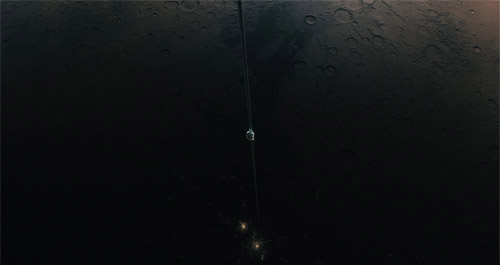 This last image shows a space elevator ferrying people and goods between orbit and a brightly lit metropolis on the surface of Mars.
Space elevators would have to be tens of thousands of miles long, but would negate the need for expensive chemical rockets, making space vastly easier and cheaper to access.
They're exactly the sort of revolutionary transportation system that could completely change how humanity organizes itself. Prosperous port cities would be sure to form at the base of any elevators ever built, like futuristic New Yorks at the mouth of a celestial Hudson River.
Amazingly, space elevators are not that far-fetched. Scientists understand elevators' physics well enough that they may be buildable within the next century.
Be sure to watch the four-minute film, and check out Wernquist's gallery for more of these beautiful images.

 Cross-posted at Greater Greater Washington.
 
 
 
December 2nd, 2014 | Permalink
Tags: fun, master planning, proposal, transportation